A Modern Guide to Old World Singing, Concepts of the Swedish-Italian and Italian Singing Schools.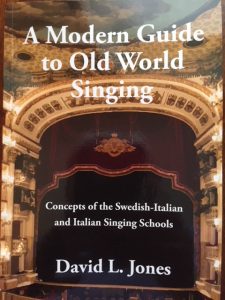 This book is a vocal pedagogy document which includes Old World concepts as taught in the Old Swedish-Italian and Italian Singing Schools. It includes in-depth descriptions of concepts used in establishing healthy vocal technique, including vocal exercises used over the last 100 years. David L. Jones is an international vocal pedagogue who offers master classes at universities and conservatories. He also teaches teacher training seminars internationally, using the concepts of the Swedish-Italian and Italian Schools. The book is designed to be both a text book and a friendly user's manual, using simple language to explain Old World vocal training.
Paperback version available at:
www.barnesandnoble.com
www. amazon.com
www.thebookdepository.com
and www.amazon.de.
Ebook version available at: eBookMall, Paper C, Inktera, and BookShout.
"An Introductory Lesson with David Jones"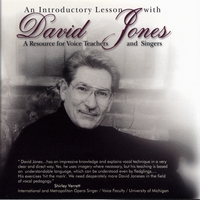 "An Introductory Lesson with David Jones" is a double CD-set covering the fundamentals of healthy vocal function. The first CD contains 35 tracks with exact descriptions of concepts and exercises that help the singer accomplish healthy vocal habits. The first tracks include concepts on the recording such as correct body posture and several breath and breath management exercises. Healthy larynx and jaw function in pronunciation, tongue posture, facial posture, and pharyngeal vowels are also included. It has been called a vocal pedagogy course of study in simple language and is designed to be studied slowly, helping the singer accomplish a more professional sound. CD-2 consists of 11 exercises for female voice and 11 exercises for male voice that will help the singer accomplish a healthy daily vocal routine.
Buy the CD at cdbaby.com